Play Design
The 12th of November in 1892 is the date of a never to be forgotten moment in sports history. Allegheny Athletic Association football team was the first to openly pay a player $ 500,- in a game against rivalry team Pittsburgh Athletic Club. It was the start of professional competition and the birth of American Pro Football.
Despite this head start of these two teams, none of them exist today, but not without long forgotten reasons. One player had to give up his spot in the team for the hired professional, but got traded something special for his compliance. A subtle silent fell as the first ever set of American Football tactics, that where scribbled on an old deck of pokercards, passed on to him. And it is with this deck the game we love today was formed in all its glory.
As for the cut player, he became the most successful coach in American Football history. As for the deck, all we know is that the box read two simple words… PLAY DESIGN.
What would you do with this kind power in your hands?
THE KICKSTARTER IS LIVE right now for: PLAY DESIGN... The American Football card game.
The idea, co-produced between America and Amsterdam to make a designed card game called PLAY DESIGN that stand out because of carefully thought out game layouts and functionalities, with a lot of detailed study and implementing of American Football formations.
PLAY DESGING - The American Football game is:
A fun card game, with 2 different game types.
Great to learn about American Football formations.
A great game, even if you don't care about American Football (yet).
A nice collectable because of great design and carefully selected common formations.
Easy to teach your kids, and give them some American Football basics while your at it.
Nice to have so you wont forget the American Football formations every man or woman should know!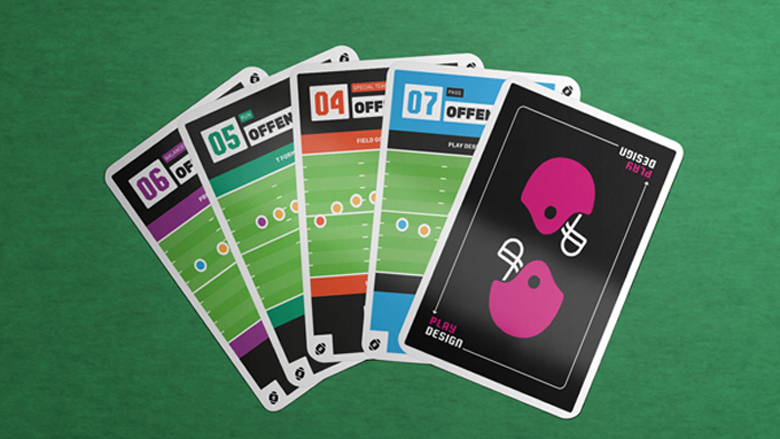 example (final print may be a little bit different)
PLAY DESIGN is s card game, both fun and strategic, but it also makes you familiair with most American Football formations. And it's great as a gift to card and sports game lovers. The game can be played in 3 different ways. This makes it an apporopiate game for many occasions. The two game types are:
4 downs - This is the basic / primairy game for 2 - 4 players. In this game you have to win as much 4th downs as possible, beating your oppenents in timing the right cards and outplaying the others. When you lose, you lose yards, untill the last man (or woman) standing.
5 possesions - This is a signature 2 player game. Both players get their own color deck (black or white) and play the best of 7 possesions to win the game. Players play on offense and defense and try to figure out what their opponent is trying to do, as the decks and options for formations get smaller and smaller.
If you like a fresh new idea of a cardgame, and appreciatie both designing and a product that is thougt out carefully, this is a must have!
For American Football lovers it is also a great collectors item and a tribute to the game and formations. And you can teach your kids the basics of the game in a fun way!
So what do you get?
The game is designed to be a 56 card set.
There is both an 28 card deck in black and white. Both decks have 28 unique formations that is the backbone of the game.
The game comes in a black tuckbox or a white tuckbox..
There are 2 types of games you can play with the deck(s).
The rules come with the game and this website will contain a digital copy of the rules once the game is launched.
Here a example of the black tucbox (endprodyct may have slight differences)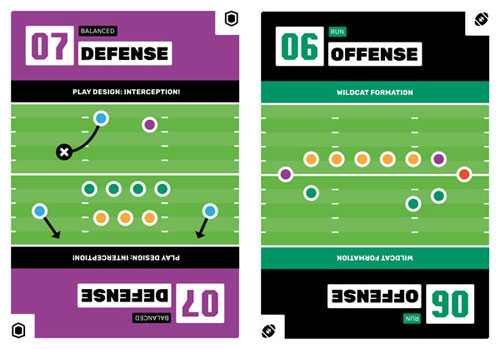 And two examples of the cards. You will explore them all later...
And beneath, an example of the white tuckbox design.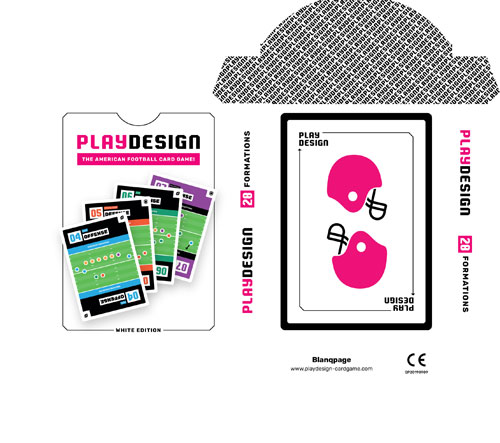 So, wait no longer, join us and support the game. Keep checking the website for the kickstarter launch soon.
And share this webite for the American Football card game